One card reader......three ways to pay
Accept contactless payments for transactions under $100. Works with any Visa Paywave™ or Mastercard PayPass™ Debit or Credit cards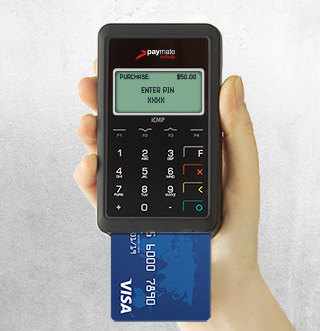 For payments over $100, or cards without contactless, the Paymate OnTheGo reader is a fully EMV certified Chip and Pin device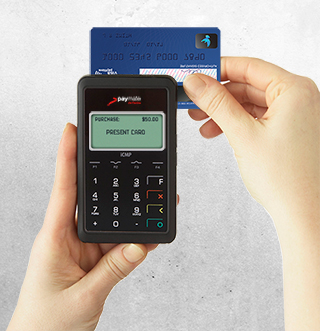 For EFTPOS cards and International credit cards without Chips, the card reader also features an integrated magnetic swipe reader
Our card reader is Level 1 EMV compliant. This means that in the event a cardholder disputes a transaction and raises a chargeback against you, often the liability shifts onto the card issuer instead of you.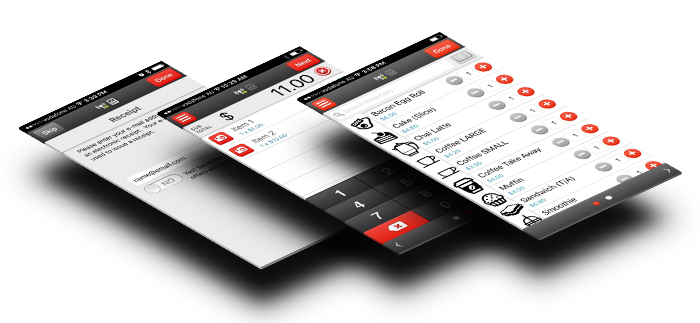 Transform your phone or tablet into a Point of Sale device
The Paymate OnTheGo mobile app turns your existing smart device into a feature rich mobile POS, including Inventory for popular items, amount entry for ad-hoc payments and receipt generation to email to the customer
All Visa, MasterCard & EFTPOS cards included
Domestic, Standard, Premium and International
High Volume Discounts
Processing over $50,000 a month?
Contact Us for a lower rate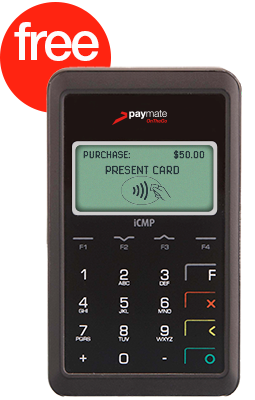 Paymate OnTheGo is NOT AVAILABLE in New Zealand
Accept Visa, MasterCard and EFTPOS payments, letting your customers to pay how they want

Sleek, Portable card reader with integrated pin pad connects to any modern Apple or Andriod device via Bluetooth

Free Payment application available from Google Play or Apple App Store

Supports Contactlesss "Tap and Go", CHIP and PIN and magnetic Swipe payments

Low monthly fee and no costly reader purchase outlay

Next business day settlement into your bank account




Ideal for Tradies / Market Stalls / Cafes / Event Organizers……or anyone who needs to accept payments on the move
Refund Fees

Domestic payment refunds incur a $0.30 processing fee. In the case of foreign currency payments, the amount of any refund will generally differ from the original payment amount. As the foreign exchange conversion rate fluctuates constantly, the rate applied at the time of a refund will generally be different to the rate applied at the time of the original payment.
¹Same day settlement

Unless the payment raises any flags in our anti-fraud system, transactions under $200 made before 3pm will be paid to you the very same day.
Monthly Account and transaction amount Limits

The standard monthly transaction limit is AU $20,000 (Note: this can be changed by contacting customer service on: 1800 240 112
The minimum payment amount a sender can make in a single payment transaction via Paymate is AU $1, and the maximum is AU $9,999 or equivalent foreign currency.
Disputed Payments
We'll work with you to resolve chargeback disputes. In the event the chargeback is upheld by the customers bank, a $30 fee applies
All prices are inclusive of GST. $29.95 P&H Fee per device and $150 Card Reader cancellation fee on a 12 month term. A replacement fee of $150 applies for lost or broken devices outside of warranty.