Pricing
Paymate OnTheGo Mobile payments
All Visa, MasterCard & EFTPOS cards included
Domestic, Standard, Premium and International
High Volume Discounts
Processing over $50,000 a month?
Contact Us for a lower rate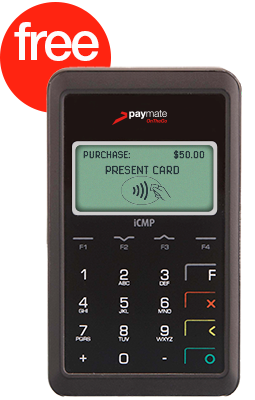 Paymate OnTheGo is NOT AVAILABLE in New Zealand
Accept Visa, MasterCard and EFTPOS payments, letting your customers to pay how they want

Sleek, Portable card reader with integrated pin pad connects to any modern Apple or Andriod device via Bluetooth

Free Payment application available from Google Play or Apple App Store

Supports Contactlesss "Tap and Go", CHIP and PIN and magnetic Swipe payments

Low monthly fee and no costly reader purchase outlay

Next business day settlement into your bank account




Ideal for Tradies / Market Stalls / Cafes / Event Organizers……or anyone who needs to accept payments on the move
Free Card Reader

Based on a 12 month minimum contract. Minimum spend $120. Early termination fee of $150 applies.
Additional Card Readers

You can have a fleet of up to 50 card readers under a single account. Additional readers are charged at the same $10 per month flat fee.
Monthly Account and transaction amount Limits

The standard monthly transaction limit is AU $20,000 (Note: this can be changed by contacting customer service on: 1800 240 112)
The minimum payment amount a sender can make in a single payment transaction via Paymate is AU $1, and the maximum is AU $9,999 or equivalent foreign currency.
All prices are inclusive of GST. $29.95 P&H Fee per device and $150 Card Reader cancellation fee on a 12 month term. A replacement fee of $150 applies for lost or broken devices outside of warranty.